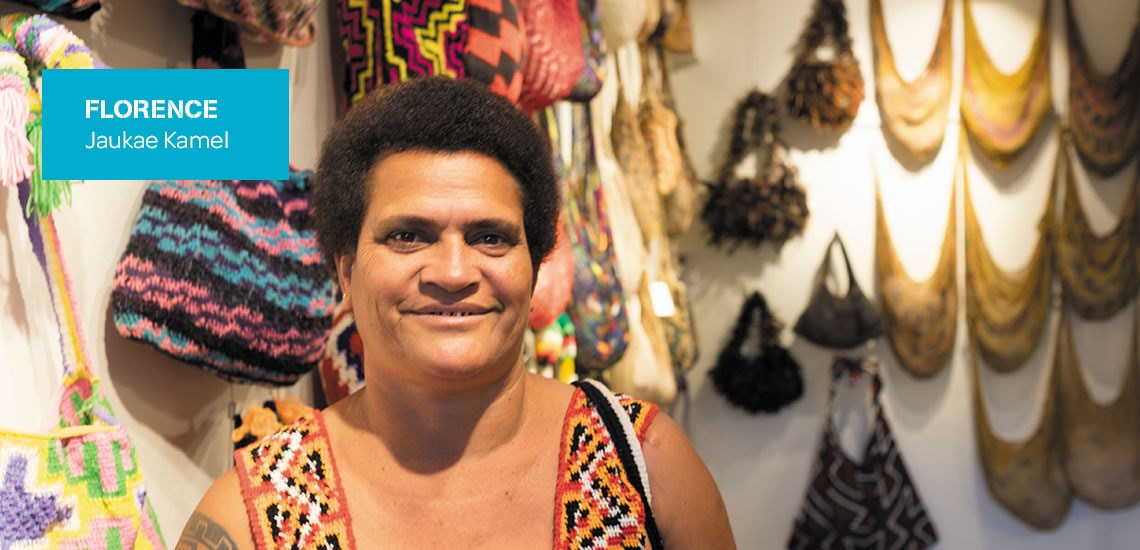 Florence Jaukae Kamel at PT&I's Maketi Ples exhibition 2016
A CREATIVE ARTS SUCCESS STORY – FLORENCE KAMEL   
Florence Jaukae Kamel is the Managing Director of Jaukae Bilum Products and the founder of the Goroka Bilum Weavers Cooperative and Goroka Bilum Festival in Papua New Guinea (PNG). An internationally renowned artist and designer, she has gained a reputation as the modern 'face of bilum'. Florence is also an outspoken advocate for women's rights, a respected leader within PNG's Eastern Highlands Province and mother to five children and three grandchildren.
ABOUT FLORENCE
For more than 12 years, Florence Jaukae Kamel has worked as an artist and designer, producing original works of bilum – a bag made from dried fibre extracted from tree bark, animal fur, sisal or vine.
Traditionally, bilum were practical items used to carry babies, food, personal items or tools. It has been said that bilum also carry the spirit of previous generations of Papua New Guinean women. For thousands of years, the art of weaving bilum has been a part of the cultural heritage, creative identity and way of life for women living in rural and urban communities across PNG.
For Florence, the tradition she learnt from her grandmother has always been part of her identity as a Papua New Guinean woman. As an artist, her inspiration has come from nature and her interest in fashion. 
"I like dressing up and wanted to wear something that was different to what I was seeing on the streets of Goroka," Florence said.
Initially she started attracting attention for her unique bilum dress designs inspired by the colours and patterns of the carpet snake and Christmas beetle. But what really put her on the map of the international art world was her bold foray into making fashion garments created from natural fibre bilum.  
"Making bilum into something wearable was creatively exciting for me and I'm very proud to see the women of PNG wearing bilum outfits," said Florence.

It also became a great opportunity for personal and economic success. Florence's designs were soon commissioned for high-profile events including charity fashion parades for the Red Cross and Salvation Army and the uniforms for PNG's team at the 2006 Commonwealth Games. 
As her own business, Jaukae Bilum Products, flourished, Florence wanted to share that success with less fortunate women in her community, and in 2003 established the Goroka Bilum Weavers Cooperative. Now supporting more than 50 regular female artisans, the Cooperative not only provides a source of income to supplement the seasonal cash crops many of the women rely on, but also much-needed medical and social support.
"Many of the women in our cooperative are HIV positive, homeless and/ or single mothers who really need support – especially because in PNG, there is no welfare or government support available," said Florence.
The mission of the cooperative aligned strongly with Florence's work as a political and social activist campaigning for women's rights. As one of the few women in PNG to be elected as a Local Level Government Councilor in 2002, Florence has worked hard to aid and assist mothers, and women in general, to earn an income for themselves.
"As a women's leader in a male-dominated arena I have advocated strongly to reduce poverty, empower women, promote gender equity and stop violence against women. Through bilum I feel that I making a difference by showing women how to be self-sufficient," she said.
After receiving little response to her appeals to the PNG Government for support in helping her find new markets for bilum – particularly in lucrative international markets – Florence conceived the idea for an international Bilum Festival.
With the aim to raise the profile amongst global audiences and generate sales for PNG's bilum artists, the first inaugural Goroka Bilum Festival was held in 2009 in the week preceeding the Goroka Show in order to piggy back off the number of international tourists attending one of the world's largest tribal gatherings.  
With the support of Pacific Islands Trade & Invest (PT&I), the event has grown from strength-to-strength and is internationally recognized as an important celebration of enduring indigenous artisanship.
PT&I'S SUPPORT
When PT&I first starting working with Florence and the Goroka Bilum Weavers Cooperative in 2009, the biggest challenge was finding new markets for bilum products.
"Our main problem has always been marketing our products," said Florence.
Through the support of PT&I's Creative Arts program, PNG's bilum industry has transformed into economic success for Highland communities. PT&I Sydney saw the opportunity for bilum to be positioned in international markets as a high-end woven product and has worked tirelessly to provide financial, marketing and technical support, event management expertise and business linkages between artisans in PNG and international buyers.
"By investing resources in the creative arts sector, we are helping to place a commercial value on the traditional knowledge and cultural expressions of Pacific Islands communities such as PNG's bilum weavers," said Creative Arts Manager at PT&I's Sydney Office, Ruth Choulai.
The provision of technical support, capacity building and training has also enabled the female artisans to embrace technology in a way that has reduced the time taken to produce each garment – and produce it to standards that appeal to export markets.
"Although there's interest in our product at an international level, we still need to educate the market and get our product right so that it blends to their liking. By working with PT&I we have been promoted to markets in Australia, New Zealand, Europe and the United States that we would never have otherwise been exposed to," said Florence.
The works of Goroka Bilum Weavers Cooperative are now on the walls of leading international galleries including the Australian National Museum in Sydney, and artists from the Cooperative have travelled as far as London and New York to collaborate with final year fashion students and encourage the incorporation of artisan work in mainstream fashion collections.
"As a woman of PNG I'm very proud of what we have achieved. It has proved to me that nothing is impossible," Florence said.
Follow Florence on Facebook: https://www.facebook.com/FJKBILUMPNG/
Follow Goroka Bilum Festival on Facebook: https://www.facebook.com/BilumFestival
Learn about the art of preparing Sisal plant fibres for weaving here.
Hear Florence speak about her journey here.
––
For further information about PT&I's Creative Arts program:
Ruth Choulai 
Creative Arts Manager 
Pacific Islands Trade & Invest (Sydney)
Phone: +61 2 9290 2133