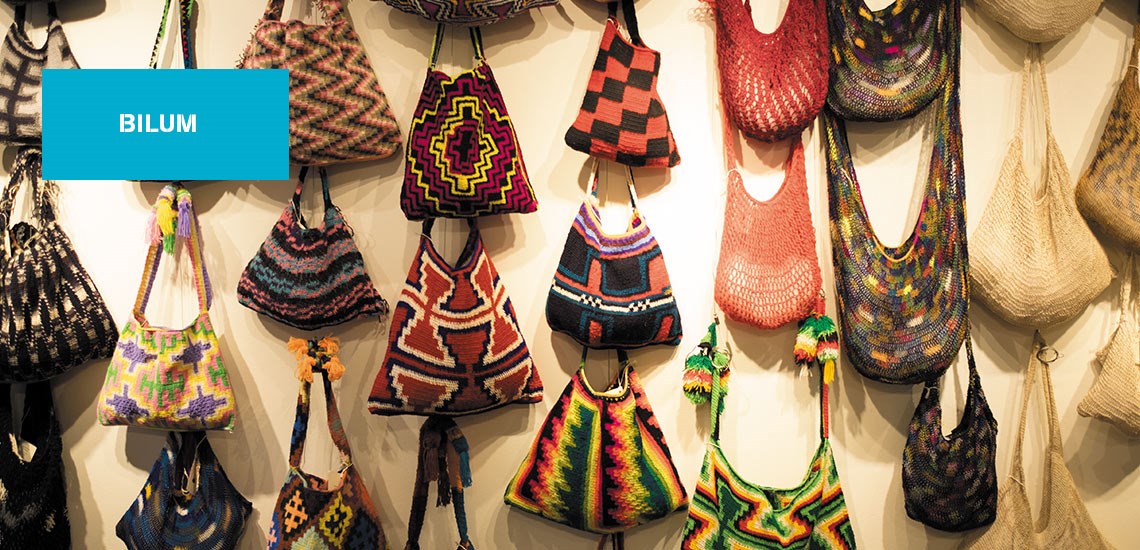 Goroka Bilum Bags on display at Maketi Ples 2016
Pacific Islands Trade & Invest is helping transform a Papua New Guinean tradition into economic success through the international promotion of one its iconic practices, bilum.
Background
For thousands of years, the art of weaving bilum has been passed down from one generation of Papua New Guinean women to the next. For these women bilum has always been part of their cultural heritage, creative identity and way of life.
Traditionally, bilum – a bag made from dried fibre extracted from tree bark, animal fur, sisal or vine – were used to carry babies, food or tools. But in recent years, bilum has become a sought-after accessory item and an attractive souvenir for tourists and visitors to PNG. Most recently, it has also attained international recognition and appeal as a fashionable garment.
Although long-overlooked in terms of its economic value to Papua New Guinean communities, bilum is now recognised as one of PNG's iconic creative industries and an important source of income, opportunity and empowerment for women in remote and urban communities.
PT&I's involvement
Pacific Islands Trade & Invest (PT&I) has played an instrumental role in helping to transform PNG's bilum tradition into economic success.
As the incoming Trade Commissioner for PT&I's Sydney Office in 2008, Caleb Jarvis saw an obvious but unrealized potential for many of the Pacific Islands' traditional creative arts to become a value-add, exportable product.
At the time, PT&I was working closely with UNESCO's Pacific Office on the development of cultural tours as an extension of the tourism offering in many Pacific Island countries. For PT&I the economic and social opportunity presented by the creative arts sector was worth investing in.
In 2009, PT&I Sydney launched its Creative Arts program with the aim to increase and promote the work of local artists in international markets.
"By investing resources in the creative arts sector, we are helping to place a commercial value on the traditional knowledge and cultural expressions of Pacific Islands communities," said Creative Arts Manager at PT&I's Sydney Office, Ruth Choulai.
PT&I saw the opportunity for bilum to be positioned in international markets as a high-end woven product and has achieved that vision through a number of initiatives including:
Providing technical support and mentoring to individual artists and collectives of female weavers such as the Goroka Bilum Weavers Cooperative, Jaukae Bilum Products and Mt Hagen Handicrafts Group in two Highland Provinces of PNG;
Providing event management and promotional support for the launch of the inaugural Goroka Bilum Festival in 2009 and subsequent years. PT&I is the major sponsor of the 2016 Pacific Islands Trade & Invest Goroka Bilum Festival;
Building greater awareness of target market needs and promoting bilum artists through targeted activities such as PT&I's annual exhibition of Pacific arts and artisans in Sydney, ;
Launching a pilot program in cooperation with a joint United Nations and World Trade Organization (WTO) agency to boost the quality and demand for bilum in new markets in Europe and the United States. This included the provision of technical assistance, product development and training for female artists in the lead up to fashion events in London and New York; and
Facilitating business links and connections between bilum producers and buyers in international markets.
Impact
Working with bilum weavers' cooperatives to create new export networks and connect them with international buyers, PT&I's Creative Arts program's highly targeted approach has proven that there is a strong and growing international market for bilum.
As a result of PT&I's involvement:
The Goroka Bilum Festival has grown from strength-to-strength as the first and only major cultural event in PNG solely dedicated to female artists;
The Goroka Bilum Weavers Cooperative continues to enjoy international recognition and sales, with two-thirds of the revenue derived going back to female artisan communities;
Goroka Bilum Weavers Cooperative has sold an artwork to the Australian Museum;
Florence Jaukae Kamel has sold artworks to high-profile galleries in Australia and New Zealand including: the Art Gallery of New South Wales, Sydney; Australian Museum, Sydney; and the Museum of New Zealand Te Papa Tongarewa;
Bilum weavers from PNG have travelled internationally to collaborate on a fashion collection with final year fashion students at the London College of Fashion (UK) and Parsons School of Design New York (USA); and
New market opportunities and business linkages continue to be formed such as those with Australian milliner, Rosie Boylan, and high-end retailer, Among Equals.
"Our main problem has always been marketing our products. PT&I has helped us overcome that," said the Managing Director of Jaukae Bilum Products and founder of Goroka Bilum Weavers Cooperative, Florence Jaukae Kamel.
"Increasing exports in creative and indigenous knowledge-based products such as bilum helps to both preserve traditional craft techniques and provide home-based income, which is particularly important for increasing women's participation in trade. This has been particularly important for the village women of PNG's Highlands who have been displaced by civil war or marginalized as a result of domestic violence or HIV," said Ruth.
Furthermore, it is demonstrating that the creative arts are able to make an ethical and sustainable contribution to the economic development of creator communities in PNG and other Pacific Island countries.
"They [bilum] are wonderful products that represent history and culture, and now they can represent the future in terms of health, education and economic opportunity for women," said Jodie McAlister, Counsellor – Economic Governance, Australian High Commission to PNG.
For further information about PT&I's Creative Arts program:
Ruth Choulai 
Creative Arts Manager 
Pacific Islands Trade & Invest (Sydney)
Phone: +61 2 9290 2133