Bringing iKiribati workers to Australia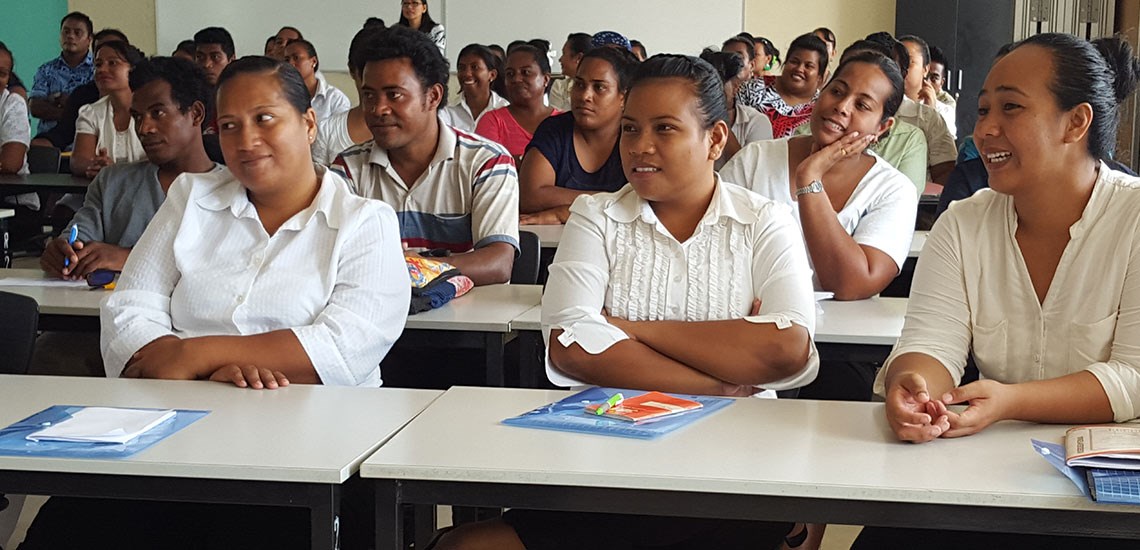 iKiribati workers at PT&I-MULPHA workshops
Background
Valued at over $30 billion, Australia's tourism industry is the country's largest services export and one of the biggest employers with almost one million people engaged in the sector. However, in remote parts of Australia, particularly Northern Australia, access to skilled labour is one of the greatest challenges the sector faces.
In June 2015, the Australian Government released its first ever White Paper on Developing Northern Australia[1]. With a vision to unlock the potential and opportunity of the north, one of the issues it focused on was building a sustainable workforce through reforms to working visitor visas.
In announcing the proposed changes, former Australian Government Minister for Trade and Investment, Andrew Robb, said, "Tourism and hospitality can be our fastest growing sector in coming decades – particularly in the Great North – but only if we have the right visa settings, attract more investment an provide better access to skilled labour."
One of initiatives borne out of the White Paper is a pilot of three-year visas under the 403 Temporary Work (International relations) visa for up to 250 citizens of the Pacific microstates of Nauru, Tuvalu and Kiribati to work in Northern Australia.
About the client
One of the first companies to be part of the pilot is the owner of One&Only Hayman Great Barrier Reef resort, Mulpha International Bhd.
Mulpha acquired the ultra-luxury private island in 2004 and subsequently appointed Kerzner to manage the property. Whilst the asset is performing strongly, staff recruitment and retention has been an ongoing issue for Mulpha and Kerzner with an annual staff turnover rate of 120 per cent.  
According to Mulpha's Executive General Manager, Human Resources, Allan Renkema, the issue is common amongst resorts in remote locations.
"We employ 400 to 500 staff on One&Only Hayman, many of which are local people. But to fill the gap we need to hire from outside the area and it is very difficult to get good quality, long-term staff in remote locations like Hayman Island," Allan said. 
The resort employs backpackers, hospitality trainees and interns, but with working holiday visas being only for six-months and students also a short-term solution, the opportunity that the pilot offered aligned with Mulpha's long-term recruitment plan.
PT&I's involvement
Had it not been for a chance meeting between the Founder of Granger Australia and Vice President of the NSW/ACT Branch of the Migration Institute of Australia, Jonathan Granger, and the Sydney-based Trade Commissioner for Pacific Islands Trade & Invest (PT&I), Caleb Jarvis, Mulpha may not have known about the pilot program.
Through previous consulting engagements with Mulpha, Jonathan was aware of the challenges the business faced at One&Only Hayman and was open to Caleb's suggestion to explore the potential of employing staff from the Pacific Islands. As luck would have it, that conversation coincided with the release of the White Paper on Developing Northern Australia, so Jonathan and Caleb decided to pitch the idea to Mulpha.
PT&I worked intensively with Mulpha, Granger Australia and the Department of Foreign Affairs and Trade for three months before leading a mission to Kiribati in June 2016. During that visit Granger and Mulpha interviewed 80 i-Kiribati with Certificate 3 Hospitality qualifications through the Kiribati Institute of Technology (KIT).
According to Allan, "i-Kiribati are well suited to work in Australia's north islands – their English is good, they are well-groomed and they are used to the tropical temperatures and remote island living conditions of places like Hayman Island. They are also hard-working because for the most part, they are just trying to provide for their family."
Impact
Of the 80 applicants interviewed, 30 have been identified for positions in housekeeping, maintenance, stewarding, and food and beverage positions at One&Only Hayman – of which approximately 80 per cent are women.
Pending approvals through the Department of Employment, the first group of 18 i-Kiribati employees are due to arrive on Hayman Island in mid-late August 2016 with another group of 12 arriving in October after the first group have assimilated.
With KIT currently working with the 50 applicants who were not successful in this round of offers to improve their English language skills, Mulpha is also planning another recruitment drive to Kiribati in March 2017.
According to both Mulpha and PT&I the pilot is already proving to be a success. For Mulpha, the potential is a stable workforce and improved work culture on Hayman Island. For PT&I it is about providing real opportunity for Pacific Island people – particularly those in countries that are vulnerable to the impact of climate change.
"Ever since I've been in this role, I've held the view that the one thing that really needs to change in the Pacific is related to the opportunities around labour mobility. I believe that the advantages of labour mobility go beyond just the obvious benefits of being able to work overseas and derive an income through remittances," Caleb said.
"The real value lies in Pacific Islanders being able to learn through exposure and experience, and to bring that knowledge back home – to start up businesses, or be better employees or employers. Exposing Pacific Islanders to higher standards of service and education off-shore will only benefit the region by lifting the service culture in the Pacific," he said.
PT&I anticipates that this initial pilot with Mulpha will be the first of many. "We've identified that there's huge opportunities in other sectors for Pacific Islanders to work in Australia as part of this new initiative," Caleb said.
[1] White Paper on Developing Northern Australia, June 2015.