Fiji Business Process Outsourcing Mission 2016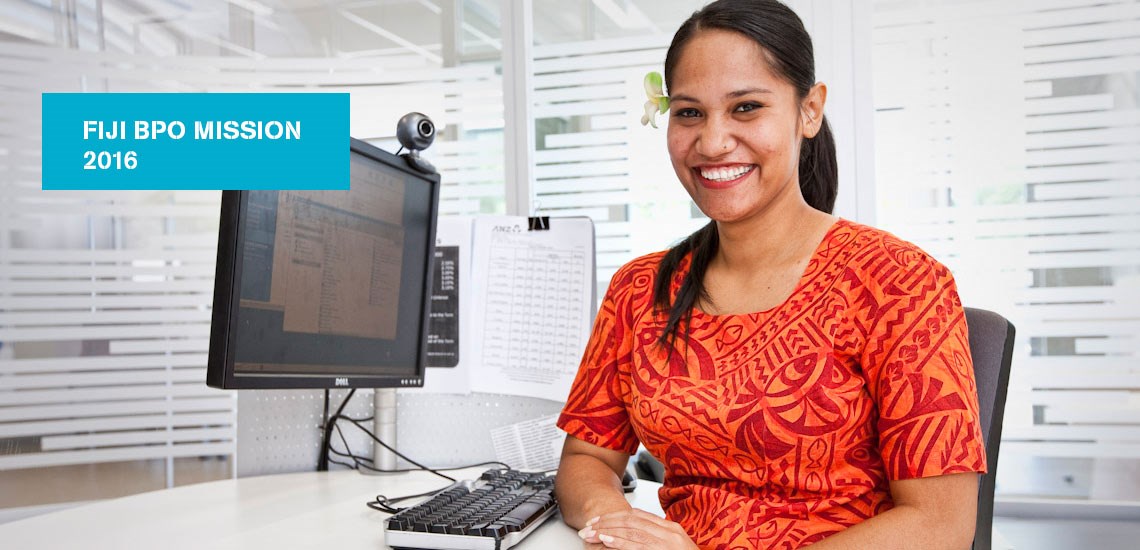 Business Process Outsourcing is a major source of potential job opportunities and investment returns
Worth an estimated US$952 billion per year globally, the outsourcing services sector offers potential for Pacific Island countries to create new and unique job opportunities. Capitalising on this opportunity, in July 2016, the Sydney Office of Pacific Islands Trade & Invest (PT&I) hosted an investor mission from Australia to Fiji. As a result, at least two Australian-based companies are planning to set up new business processing outsourcing operations in Fiji.
Background
According to a recent World Bank report , the outsourcing services sector is worth an estimated US$952 billion per year globally with the potential to create thousands of jobs in the Pacific region.
Highlighting Australia and New Zealand as potential 'nearshoring' markets for the Pacific; the 'ICT for Jobs in the Pacific' report suggests that the offshoring, online outsourcing and other information technology (IT)-related industries could be worth an estimated US$31 billion per year to region.
With a number of international companies already outsourcing their IT and business processes through offshoring (e.g. customer services, accounting services, data entry, programing and website design); the rise of global online job marketplaces, (such as Upwork, Freelancer and Witmart), are further fuelling the growth of such services-based outsourcing. Analysing this opportunity, the study's conservative estimates found direct and indirect job creation could be over 6,700 in Fiji alone.
"International experience has seen large countries such as India, the Philippines, but also small island countries like Mauritius, benefit from job creation in the offshore and online outsourcing and other IT-enabled industry sectors. This study shows there is potential for Fiji, Samoa and Tonga to tap into that market and create new and unique job opportunities that can especially benefit women and youth," said Senior ICT Policy Specialist at the World Bank, Natasha Beschorner.
Focusing on Fiji, Samoa and Tonga as a first phase in a broader Pacific review, the study found these Pacific Island countries, in particular Fiji, possess a number of competitive advantages including:
a labour market that is young and qualified for these tasks and positive international perceptions of the Pacific region, which lends itself to call centres and customer service tasks;
competitive internet infrastructure, which is now rapidly improving in terms of speed, quality and cost;
strong political support; and
wage levels comparable to international norms.
PT&I's involvement
In highlighting the potential for the sector to bring potential jobs and economic growth to the region, the World Bank study also warned that international practice suggests that having the infrastructure and polices alone is not enough for these industries to grow. Therefore, the report recommends, a phased approach, starting with industry development pilots in a lead country—in this case Fiji, which is the only country in the Pacific region with operations currently in place and 2,500 people already employed the sector.
Capitalising on this opportunity, in July 2016, the Sydney office of Pacific Islands Trade & Invest (PT&I) initiated an investor mission to Fiji with a focus on showcasing the country's business processing outsourcing (BPO) capabilities.
PT&I's Manager – Tourism and Investment, Chad Morris, and project partner, the Fiji High Commissioner to Australia, His Excellency Mr Yogesh Punja, escorted representatives from five Australian-based BPO companies to Suva for the three-day mission.
Facilitated by PT&I, the delegation had the opportunity to meet with Government ministers; attend presentations by Government offices, accounting and legal firms; and visit all existing BPO providers for the ANZ Bank's Pacific Operations Centre, Mindpearl, Centrecon and Packleader Group.
In addressing the delegation, Commercial Director – Asia Pacific at Mindpearl, Mark Mahoney, said, "Friendly and customer-oriented people and a compelling cost advantage were some of the reasons we decided to open operations in Fiji six years ago."
For companies like Mindpearl, Fiji is an attractive destination offering a range of high-quality BPO services at one-third to one-quarter of the price it would in Australia.
With plans to make outsourcing a growth industry, Fiji is investing heavily in supporting the sector and the World Bank sees this as an opportunity to spearhead similar growth across other Pacific Island countries.
"We are on the cusp of the industry taking off. With the addition of a second tax-free zone offering another 70 acres of land with infrastructure, fibre optics and facilities in place Fiji's BPO offering is significant," Mr Punja said in an interview with ABC Radio Australia's Pacific Beats program.
Impact
As a result of the BPO mission, two of the five participating companies are considering setting up BPO operations in Fiji.
One of those businesses is Trek Australia – an outsourcing service provider with clients in Australia, the United States and Europe. Most of Trek Australia's 400 staff are currently located in the Philippines and it is now looking to future-proof its business by opening operations in new locations.
Director of Trek Australia, Scott Wooden, was both surprised and impressed by the quality of the BPO operations he saw in Fiji saying, "What I've seen are state-of-the-art facilities that match those I've seen in both Australia and the Philippines."
Mr Wooden also praised the BPO mission, saying that he and his fellow investors had a positive experience in Fiji.
"I think a lot of it has been to do with how the mission was organized. When I first did this in the Philippines I went on my own, did a lot of site visits, made a decision and selected a provider but I got it wrong and had to start over again."
"What has been great about this mission is that PT&I created a one-stop shop so we were able to get answers to every question in a day instead of having to wait (sometimes for weeks) for information about important factors such as infrastructure, labour, taxation and incentives. What was great about this program was that everyone we need to speak with was accessible during our visit and beyond," Mr Wooden said.
For further information:
Chad Morris
Manager – Investment & Tourism
Pacific Islands Trade & Invest (Sydney)
Email LINK
Phone: +61 2 9290 2133