Le Vasa Resort Samoa Success Story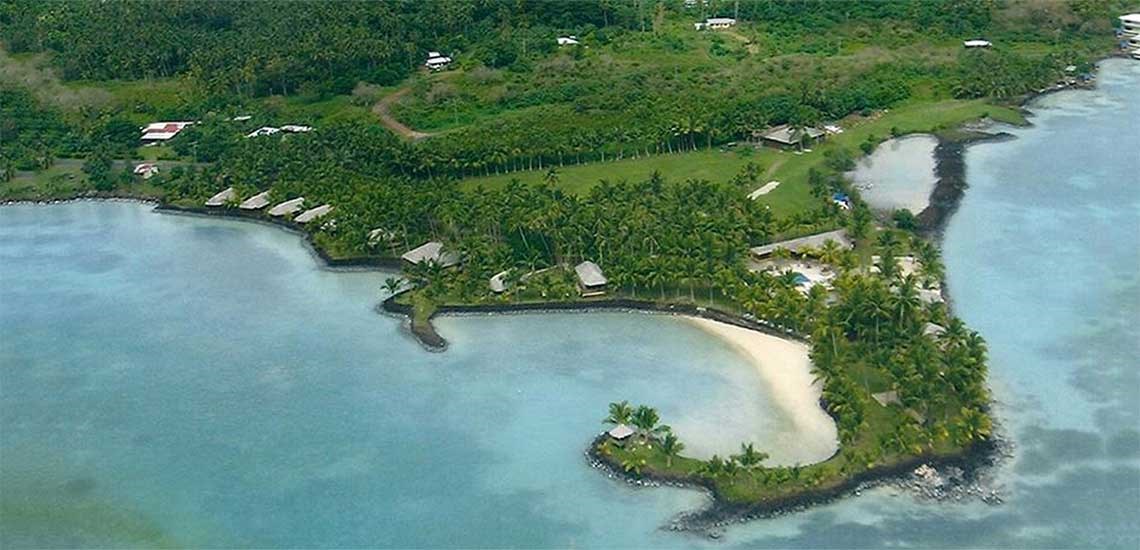 Le Vasa Resort Samoa Success Story
About Le Vasa Resort, Samoa

Located at Cape Fatuosofia on the western tip of Samoa's main island, Upolu, Le Vasa Resort is a 16-room oceanfront resort built in the style of a traditional Polynesian village.
Operated by Soraya May-Maligi and Loa Maligi, the Resort caters to holidaymakers, honeymooners, couples and families – predominantly from Australia and New Zealand – seeking an island holiday getaway.
Soraya bought the former Samoa Village Resort with her late husband, Stephen Scott Filipps in 2006 after making the decision to move from San Francisco, California USA to set up a new business and life in Samoa.
"We didn't have any experience in running hotels, but after travelling extensively through the South Pacific we decided that is where we wanted to be. My mother was living in New Zealand and I wanted to be close to her, but my husband preferred a tropical climate, so when my sister found an advertisement for this property it was a blessing," said Soraya.
Soraya's professional background in real estate and Stephen's in dot.com ventures proved to be a winning combination for the significant investment that they made in developing and growing the business.
After Stephen's death in 2008, Samoan resident, Loa Maligi, became Soraya's new business partner.
The Challenge
With the ever-increasing shift to online travel planning and booking, Le Vasa Resort was faced with the reality of declining revenues through its existing booking channels. Like many small tourism operators not only in the Pacific Islands but also around the world, the challenge for Le Vasa Resort was how to compete against the 'big players' in the travel industry including online travel agents (OTAs) and large, multinational hotel chains.
"In essence, the future of the travel and tourism industry is online – and regardless of where they are in the world, businesses in the sector need to have an online presence to succeed," said Manager – Investment & Tourism at PT&I's Sydney Office, Chad Morris.
PT&I's Involvement
Le Vasa Resort was one of the first tourism operators in the Pacific Islands to sign up for support through PT&I's Tourism Promotion programme when it launched in 2012.
A joint initiative between PT&I, South Pacific Tourism Organisation (SPTO) and global 'travel incubator', WHL Group, the initiative sought to improve the success of Pacific Islands-based SMME tourism operators and accommodation providers by providing them with the technology, online tools and training they needed to be more competitive in their industry.
After attending a workshop hosted by PT&I, SPTO and WHL Group in Samoa in 2013, Soraya and Loa worked with WHL Group's Hotel Link Solutions to develop and implement an online distribution and marketing strategy for their business.
Key to the success of their strategy was the creation of a new mobile-responsive website with the facility for direct online bookings and credit card payments, as well as the ability to seamlessly plug into third-party distribution channels such as OTAs (like Expedia and Wotif) and social media platforms such as Facebook.
In late 2015, Soraya contacted WHL Group for help and advice on how to grow their share of the lucrative weddings and fishing markets. Working with WHL Group's digital marketing agency, Digital Rhinos, Le Vasa Resort embarked on it's first paid search campaign through Google Adwords and Facebook.
Responding to the lessons learnt from this initial campaign, Digital Rhinos implemented a search engine optimisation (SEO) and content strategy for Le Vasa Resort that sought to capture potential customers earlier in the planning cycle by broadening the keyword search terms.
"The challenge for small operators like Le Vasa Resort is that they tend to get dwarfed by the big budgets and website traffic that OTAs enjoy, so using generic keywords won't get the cut-through that broader, organic search terms will. Although it takes longer to see results, the strategy has paid off in attracting guests that are more likely to book all-inclusive packages and spend more," said Director at Digital Rhinos, Adrian Cordiner.
According to Adrian, there's no such thing as a 'one size fits all' strategy for online marketing – and it's not just about getting website traffic.
"Other factors such as knowing your audience, their country of origin, knowing your distribution strategy and ensuring that you have rate parity and favourable terms and conditions on your own website are just as important," Adrian said.
The Results
By building their capacity in effective online marketing and distribution, Le Vasa Resort has grown its online presence and increased its booking revenues. The Resort is also receiving more profitable direct bookings and with the seamless connection to third party channels, no longer has to manage allotments.
"The impact on our booking volumes from having a professional website combined with advanced booking and distribution tools provided under the PT&I / SPTO / WHL program has been enormous," said Soraya.
With the launch of their very first 'super page' (a 3,500-word tourist information resource) in June 2016, Le Vasa Resort has enjoyed an almost 50 per cent spike in (FREE or ORGANIC) traffic to their website and a significant improvement in engagement – meaning that visitors to the site are spending more time on the website and are hence more likely to book.
Le Vasa Resort has also moved up in Google rankings across a number of key search terms and is currently ranked amongst the top resorts in Samoa on TripAdvisor and hotel.com.