COVID-19 UPDATES 13 November
COVID-19 News Updates 13.11.2020
| | | |
| --- | --- | --- |
| Country | CasesConfirmed | Deaths |
| French Polynesia | 11485 (4842 recovered) | 52 |
| Papua New Guinea | 600 (585 recovered) | 7 |
| New Caledonia | 30 (28 recovered) | 0 |
| Fiji | 35 (32 recovered) | 2 |
| Solomon Islands | 16 (5 recovered) | 0 |
| Vanuatu | 1 (0 recovered) | 0 |
| Marshall Islands | 1 (1 recovered) | 0 |
| Tonga | 0 | 0 |
| Samoa | 0 | 0 |
| Niue | 0 | 0 |
| Kiribati | 0 | 0 |
| FSM | 0 | 0 |
| Palau | 0 | 0 |
| Tuvalu | 0 | 0 |
| Cook Islands | 0 | 0 |
| Nauru | 0 | 0 |

Note: The above data is sourced from the official website of the Western Pacific Region of the World Health Organization. It may update untimely or inconsistency with the relevant data in the article sourced from local news. 
https://who.maps.arcgis.com/apps/opsdashboard/index.html#/345dfdc82b5c4f6a815f1d54a05d18ec
Vanuatu records first case of COVID-19
According to news reported by PACNEWS on 11 November, Vanuatu's Prime Minister has confirmed the country has detected its first positive case of COVID-19. 
The ni-Vanuatu man arrived in the country last week, after spending time in the U.S and transiting through Sydney and Auckland. 

In a live radio address, Prime Minster Bob Loughman told Vanuatu the situation is under control. "I want to ensure our citizens that situation is under control, and the government, through its COVID-19 taskforce, is prepared and ready to deal with this case."
The patient has been transferred to an isolation ward at the Port Vila Central Hospital and Loughman said contact tracing has begun. 
Source: PACNEWS
http://www.pina.com.fj/index.php?p=pacnews&m=read&o=5023842055fab3afa8550e413ba2eb
Vanuatu doubles quarantine period, halts domestic travel to Efate
According to news reported by VANUATU DAILY POST on 12 November, the capital island of Vanuatu - Efate - is closed off after the country's first case of Covid-19 was announced Wednesday. Stricter quarantine rules are also in place. The lockdown will be effective until health risk assessments on contact tracing and precautionary testing are completed.
Prime Minister Bob Loughman said the Council of Ministers had agreed that the period of quarantine for citizens being repatriated will now double to 28 days.
As well, Loughman announced that domestic travel connections to the main island Efate are being halted. All international repatriation flights and domestic passenger flights in and out of Port Vila are cancelled until further notice. These measures are also applicable to maritime services. But these restrictions do not apply on movements of cargos on planes and inter-island vessels.
Furthermore, he said the council also agreed that all ni-Vanuatu citizens and residents wanting to return home from abroad must show negative test results at least 72 hours before departing for Vanuatu.
Source: VANUATU DAILY POST
http://www.pina.com.fj/index.php?p=pacnews&m=read&o=2712988785fac8fde768058f9ab6b7
Vanuatu first COVID-19 case contained
http://www.pina.com.fj/index.php?p=pacnews&m=read&o=1250994055fac657ec6f538f6a0e8c
Solomon Islands reports three more COVID-19 cases
According to news reported by Solomon Times on 9 November, Prime Minister Manasseh Sogavare has confirmed that three more persons have tested positive for COVID-19.
"This now brings to 16 the total number of COVID-19 cases registered in Solomon Islands," Sogavare said.
He said that of the three new cases, one is from the original group from the Philippines and the other two are footballers that returned from the United Kingdom. "We anticipate more positive cases among the footballers in the coming days.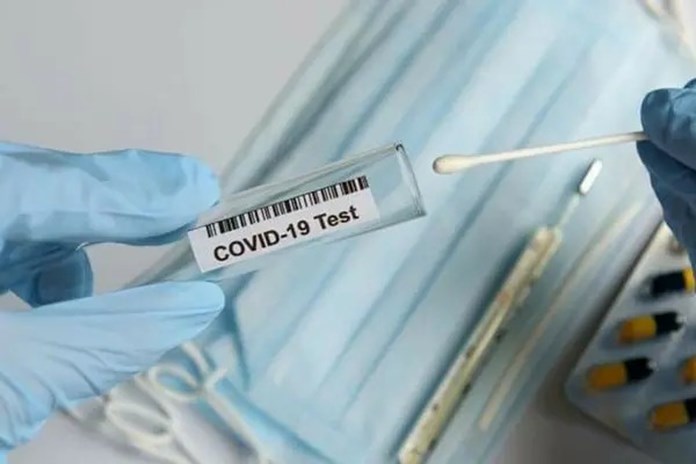 "The saving grace is all the footballers are quarantined in a separate quarantine station so they can not infect others," Prime Minister Sogavare said.
This is a new addition after the 5 confirmed cases reported on 2 November that returned from the repatriation flight from Auckland.
Source: Solomon Times
https://www.solomontimes.com/news/three-more-covid19-cases/10400

Related News:
Five New Cases of positive COVID-19
https://www.solomontimes.com/news/five-new-cases-of-positive-covid19/10381
Solomon Islands Records 4th Case, meanwhile the first three positive cases has returned negative.
https://www.solomontimes.com/news/solomon-islands-records-4th-case/10351
Fiji records new COVID-19 border quaratine case
Fiji's Ministry of Health and Medical Services (MHMS) has announced one new border quarantine case of COVID-19.
According to news released by FBC NEWS on 11 November, the patient is a 53-year-old male Fijian citizen who arrived in Nadi on Thursday 05 November 2020, on a repatriation flight from New Zealand. His initial port of origin was United States of America.
As with all prior border quarantine cases, this latest patient has been under strict border quarantine conditions since arrival into Nadi, at which time he began compulsory 14-day quarantine at a government-designated quarantine facility under supervision from the Republic of Fiji Military Forces and the MHMS. He has not displayed any symptoms since his arrival in Fiji. The entry test was conducted on day two of quarantine as part of our standard border process. 
He remains in stable condition, and has been transferred to the isolation ward at the Lautoka hospital as per standard protocol for confirmed cases. 
Fiji has now had 35 COVID-19 cases overall, and this new case is Fiji's only active COVID case.
Source: FBC NEWS
https://www.fbcnews.com.fj/news/covid-19/fiji-records-new-covid-19-border-quarantine-case/
Related News:
Fiji reaches COVID-19 milestone - 200 days without any transmission of the COVID-19 in the community.
http://www.pina.com.fj/index.php?p=pacnews&m=read&o=19656804375fa45c3f0ac8016eb2b5
Marshall Islands free of Covid again
According to news reported by PACNEWS on 12 November, the Marshall Islands is reverting this week to Covid-free status following medical declaration that the U.S Army worker who initially tested positive two weeks ago is no longer contagious.
Marshall Islands President David Kabua, speaking at the last day of Nitijela (Parliament), announced the news that the American had no symptoms and had been cleared by his doctor at Kwajalein, two weeks into his three-week quarantine at Kwajalein.
"In accordance with WHO (World Health Organisation) and CDC (Centre for Disease Control) recommendations, he ceased to pose an infectious threat on 8 November 2020, (his 12th day of supervised and secured quarantine), and has been assessed as recovered and no longer an active case of Covid-19 by his primary physician," the Office of the Chief Secretary said in a statement.
The Chief Secretary added that while the US Army Garrison - Kwajalein Atoll (USAG-KA) worker had been deemed to be recovered at this stage, along with 15 other passengers from his group, he would remain in secure quarantine for a total of 21 days.
Two close contacts of the Covid positive individual, along with the 13 other people in the repatriated group that arrived at Kwajalein on 27 October, all tested negative for Covid this week, according to the Chief Secretary.
This followed the discovery of two individuals who had earlier in the year had Covid and were no longer contagious but still had coronavirus antibodies, accounting for an initial positive test result.
Source: PACNEWS
http://www.pina.com.fj/index.php?p=pacnews&m=read&o=18783058295fac8e6d9e989dd4c447
Samoa remains COVID 19 free to date
According to news reported by PACNEWS on 11 November, Samoa government has assured that Samoa remains COVID 19 free to date, following three positive cases of COVID-19 were confirmed in American Samoa of the crew members of the container ship Fesco Askold that docked at the Apia wharf on 08 November and arrived in American Samoa 09 November.
According to the Samoan government, "the matter was relayed immediately to the Director General of the Ministry of Health – Leausa Samau Dr Take Naseri by American Samoa's Epidemiologist at the Department of Health – Aifili Tufa through a telephone conversation last night.
"The Fesco Askold began its sail from California, docked in Tahiti, before it set sail south and arrived in Samoa on Sunday, 8th November. The ship left early in the morning of Monday 09 November for American Samoa.
"Fesco docked at Matautu less than 24 hours. The process at Matautu is well coordinated and controlled when any vessel is authorised to enter the wharf. The process is strictly co-managed by the Ministry of Health, Ministry of Police, Customs, Quarantine, Immigration and the Samoa Port Authority. The ship – Fesco Askold went through this highly controlled process.
…
"The country is hereby assured that Samoa remains COVID 19 free to date, and the National Emergency Operations Centre through effective coordination of border agencies continues to work tirelessly to safeguard Samoa in these difficult times.
"In fortifying our national efforts to protect Samoa, the frontline officials who serviced Fesco Askold are now placed in a controlled isolation. This is part of health precautionary measures. They will be tested over the next five days for COVID 19. To date, they all remain healthy and well," the statement said.
Source: PACNEWS
http://www.pina.com.fj/index.php?p=pacnews&m=read&o=1542110065fab359c04f3a699bee11
PNG's COVID-19 cases reach 600
According to news released by PNG Government on 13 November, Papua New Guinea has reported its 600th case of coronavirus disease (COVID-19) in a 4-year old boy from Talasea District, West New Britain. The child has no COVID-19 symptoms but was tested as he is a close contact of a previously identified case. The rapid response team continues to trace and test contacts to prevent further spread of the virus.
To date, PNG has tested 30,027 people for coronavirus. Additional 339 samples are pending laboratory results. There have been 585 people who have recovered from COVID-19 whilst there are eight active cases that are being isolated. PNG has seven known deaths from COVID-19.
Fifteen provinces (including the Autonomous Region of Bougainville) have confirmed COVID-19 cases: NCD(346); Western Province(203); Eastern Highlands (13); West New Britain(11) ;Central(7); Morobe(5); East Sepik(3); East New Britain(2); Milne Bay(2); Enga(2); New Ireland(2) ;Southern Highlands(1); West Sepik(1); Autonomous Bougainville Region(1); Hela Province(1)
Source: PNG Government
https://covid19.info.gov.pg/index.php/2020/11/13/papua-new-guineas-covid-19-cases-reach-600/
COVID-19 Situation Update of French Polynesia
According to the newest update from the Ministry of Health on covid-19 as of 12 November, a total of 11,485 cases of COVID-19 have been confirmed. Of these, 4,842 were released from isolation, 6,591 cases are being followed up (active cases), and 52 known deaths from COVID-19.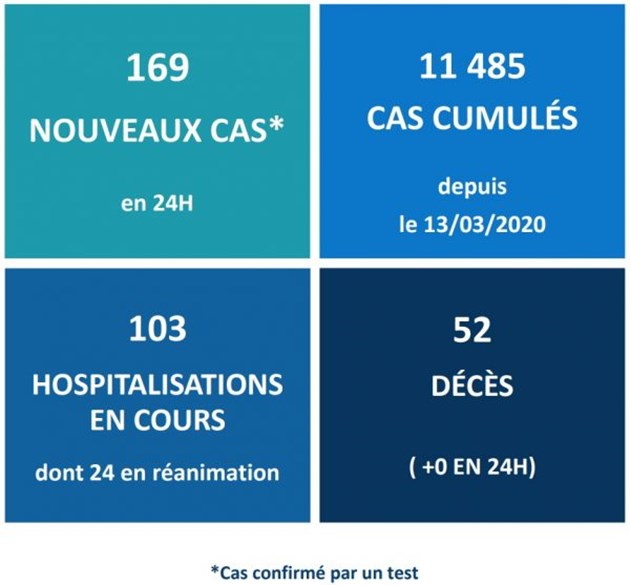 Source: French Polynesia Presidence
https://www.presidence.pf/point-de-situation-sur-le-coronavirus-au-12nov/