COVID-19 News Updates 13.05.2020
| | | |
| --- | --- | --- |
| Country | CasesConfirmed | Deaths |
| French Polynesia | 60 | 0 |
| Fiji | 18 (14 recovered) | 0 |
| New Caledonia | 18 | 0 |
| Papua New Guinea | 8 | 0 |
| Samoa | 0 | 0 |
| Vanuatu | 0 | 0 |
| Cook Islands | 0 | 0 |
| Tonga | 0 | 0 |
| Solomon Islands | 0 | 0 |
| Niue | 0 | 0 |
| Kiribati | 0 | 0 |
| FSM | 0 | 0 |
| Palau | 0 | 0 |
| Tuvalu | 0 | 0 |
| Marshall Islands | 0 | 0 |
| Nauru | 0 | 0 |



China donates another batch of material to PNG to help fight against COVID-19
Accroding to press release of Xinhua on 12 May, a batch of materials donated by China to help Papua New Guinea fight against COVID-19 arrived at the capital city of Port Moresby on Monday afternoon.
The 11 tons of protective equipment were donated by the Chinese government, the provincial governments of Fujian and Guangdong in south China, overseas Chinese and Chinese enterprises, according to the Chinese embassy in PNG.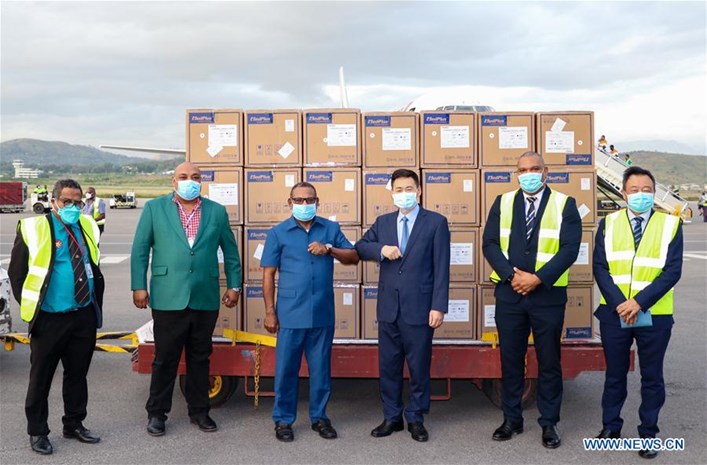 Chinese Ambassador to Papua New Guinea Xue Bing (3rd R) and Foreign Minister of Papua New Guinea Patrick Pruaitch (4th R) attend the donation ceremony in Port Moresby, Papua New Guinea, 11 May, 2020. A batch of materials donated by China to help Papua New Guinea fight against COVID-19 arrived at the capital city of Port Moresby on Monday afternoon. (Chinese Embassy in Papua New Guinea/Handout via Xinhua)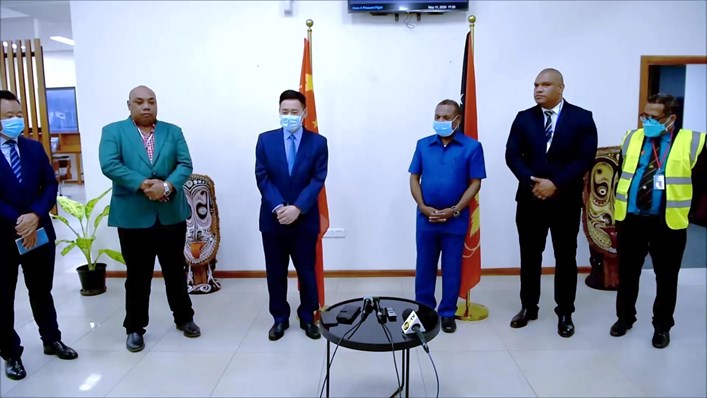 The equipment was the second batch of materials sent to PNG, which showcased the support from the Chinese side, said Xue Bing, Chinese Ambassador to PNG, who attended the donating ceremony with PNG Foreign Minister Patrick Pruaitch. Pruaitch expressed gratitude for the assistance and said the international community needed to have more unity and cooperation to cope with the pandemic.
Source: WWW.PNG-CHINA.COM
http://www.xinhuanet.com/english/2020-05/12/c_139050511.htm
China helps PNG with protective gear
According to the article of Post Courier on 13 May, James Marape, Prime Minister of Papua New Guinea, has extended his appreciation to the people and the government of the People's Republic of China for the donation of 45 tonnes (around 400,000) of Personal Protective Equipment that arrived in Papua New Guinea this week.
Mr Marape said the donation was organised in partnership with the Government of China through its Embassy here in Port Moresby, the government through the Department of Health and UNICEF. "I would like to thank the Government of the People's Republic of China and UNICEF for ensuring vital PPE's reached Papua New Guinea to boost our preparedness to respond to Covid-19," the Prime Minister said. "Another UNICEF shipment is still in Shanghai and will be brought to PNG in the coming days."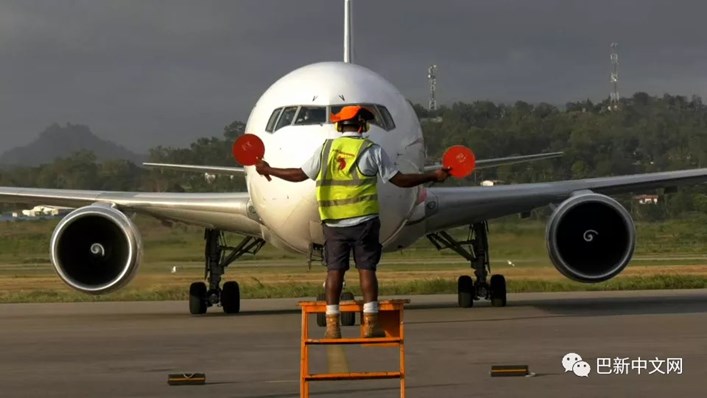 The Prime Minister also thanked the hard working flight crew of the national carrier, Air Niugini, for safely transporting the equipment to Papua New Guinea. He said as a part of our support to the fight against Covid-19, the same flight has assisted the people and Government of Solomon Islands to bring in 5000 surgical masks and 2000 medical disposal protective clothing from China.…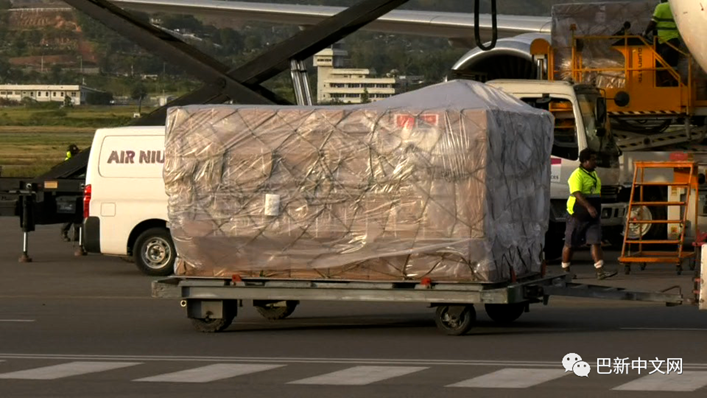 Source: Post Courier
https://postcourier.com.pg/china-helps-png-with-protective-gear/
The Vice Ministers' Special Meeting on COVID-19 Between The People's Republic of China and Pacific Island Countries was held successfully
On 13 May, 2020, China and Pacific Island Countries held a special meeting on COVID-19 via video link. Vice Foreign Minister Zheng Zeguang of China and Foreign Minister Patrick Pruaitch of Papua New Guinea co-chaired the meeting.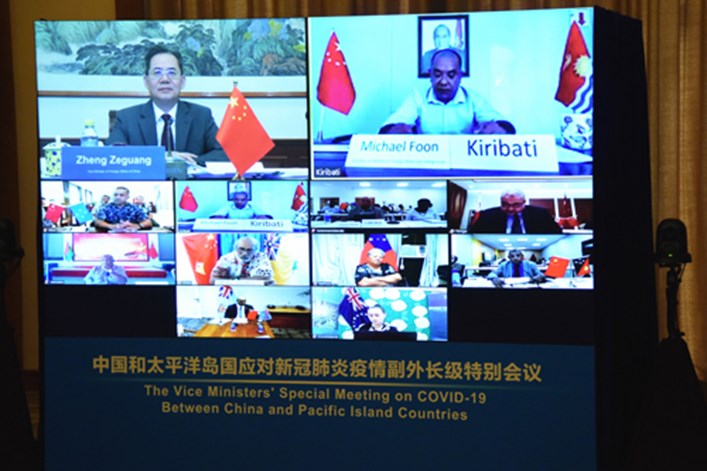 Present at the meeting from the Pacific Island Countries side are: Fiji, Samoa, Papua New Guinea, Vanuatu, The Federated States of Micronesia, Cook Islands, Tonga, Niue, Solomon Islands, Kiribati.
1. Both sides reviewed the important progress made in the relationship between China and Pacific Island Countries in recent years, especially since President Xi Jinping met with Leaders of Pacific Island Countries in 2018, and agreed to keep deepening their comprehensive strategic partnership on the basis of mutual respect and common development. They fully recognized that this special meeting held amidst the fight against COVID-19 is of unique significance for the two sides' joint response to the virus.
2. Both sides were of the view that COVID-19 is a grave threat which has afflicted the people of China, Pacific Island Countries and other parts of the world and dealt a serious blow to the economic and social development of countries. They expressed deep condolences for all lives lost to the virus, conveyed sincere sympathies to the patients and their families, and paid high tribute to the health workers fighting at the front line.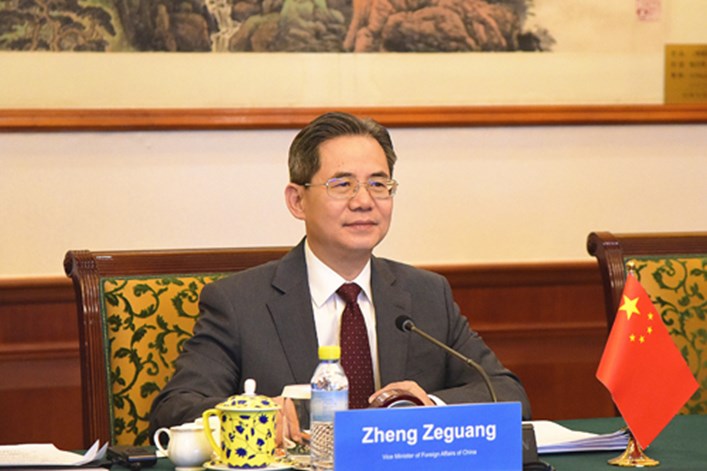 3. Both sides shared the view that the virus, which respects no borders, is a common enemy of humanity. Countries need to advocate multilateralism, adopt a science-based approach, increase information sharing and coordination of policies and actions, oppose any attempt at stigmatization, politicizing or labeling the virus, support the leading role of the World Health Organization in promoting global cooperation against COVID-19, and strive for an early victory in the fight against the disease.

4. The Pacific Island Countries commended China for its open, transparent and responsible approach in adopting timely and robust response measures and sharing its containment experience. The Pacific Island Countries spoke highly of the "China-Pacific Island Countries Joint COVID-19 Response Fund" established by China and expressed gratitude for the medical supplies provided by the Chinese Central government, Guangdong Province and various sectors across the Chinese society. China appreciated Pacific Island Countries for their support and help, and would continue to help the Pacific Island Countries to the best of its ability. China understood the severe impact of COVID-19 on Pacific Island Countries and called on the international community to fully accommodate Pacific Island Countries' concerns and needs.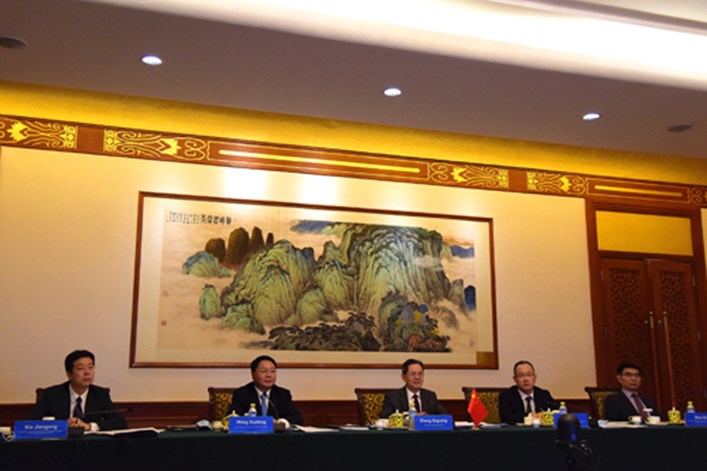 5. Both sides agreed to maintain and strengthen their mutual support and coordination in global and regional affairs, jointly maintain the UN-centered international system, stay committed to the purposes and principles of the UN Charter, and safeguard the legitimate rights, interests and development space of developing countries.

6. Both sides affirmed their commitment to advancing practical cooperation in various fields in the "post COVID-19 era" by exploring new ways and tapping new potentials of cooperation so as to bring about greater progress in China-Pacific Island Countries relations, and deliver more benefits to the both peoples.
Source: Ministry of Foreign Affairs of the People's Republic of China
https://www.fmprc.gov.cn/mfa_eng/wjbxw/t1778780.shtml
Nauru president: Pandemic will not end soon
According the article of Nauru Government on 7 May, Nauru is fortunate to be among 13 countries that still have not reported confirmed cases of coronavirus. Pacific neighbours Kiribati, Marshall Islands, FSM, Palau, Samoa, Solomon Islands, Tonga, Tuvalu and Vanuatu are among the 13.
The Nauru Government ceased its island flights in early March and substantially reduced the thrice weekly Brisbane flights to once a fortnight. While its borders are not completely closed, the reduced flights minimise the flow of travel and works in with the government's two weeks managed quarantine time for all new arrivals. Sixteen people are currently in quarantine at the Meneñ Hotel, including a fisheries observer who arrived by fishing vessel, and 18 at the Canstruct Anibare village.
According to the 2019 mini census, Nauru has a population of 11,550 and 1713 houses. Nauru is a close-knit community and crowded extended family living arrangements makes Nauru particularly vulnerable if an infection were present in the community. Under the amended National Disaster Risk Management (Management and Minimisation of the Impacts of Coronavirus (COVID19)) Regulations 2020, the maximum penalty for failing to comply with the rules and regulations is a fine no more than $10,000 (US$6,418) or jail term of no more than six months, or both.
President Lionel Aingimea addressed the local media for regular situational updates on coronavirus reminding the public of the dangers in being complacent and watering-down of the security rules put in place. He said, according to the World Health Organisation (WHO), global figures of new cases continue to rise, and warns that every person that has not been infected is still susceptible to being infected. "We cannot put down our guard, we must always be ready."
SOURCE: NAURU GOVT/PACNEWS
http://www.pina.com.fj/index.php?p=pacnews&m=read&o=20478461235eb3a1b268d259d127a3
All Covid-19 restrictions to be Lifted in outer islands of French Polynesia
According to the article released by SPTO on 14 May, all Covid-19 restrictions imposed in French Polynesia's outer islands was lifted at midnight. There have been 60 cases of Covid-19 in French Polynesia. 28 days have passed since a case was detected in any outer island.
Travel between the islands will be allowed, and bars and retailers will be allowed to reopen, although patrons must observe social distancing. Schools will reopen on Monday and sports events have also been given the all-clear.
In Tahiti and Moorea, which account for the bulk of the population, a ban on meetings of more than 100 people remains, with a review due at the end of the month.
Source: South Pacific Tourism Organisation
https://corporate.southpacificislands.travel/all-covid-19-restrictions-to-be-lifted-in-outer-islands-of-french-polynesia/