COVID-19 UPDATES 24 April
Solomon Islands
COVID-19 medical kits donated by China have arrived in Solomon Islands
THE COVID-19 medical kits donated by the Peoples' Republic of China (PRC) have finally arrived in the country on a special flight operated by Solomon Airline airbus on 23 April. The consignment includes lab equipment and testing kits purchased from a Chinese Company BGI (Beijing Genomic Institution), was part of the US$300,000 (SBD2.5m) assistance from China which was signed by the Foreign Affairs Minister Jeremiah Manele and His Excellency Yao Ming of the Chinese Embassy in Honiara last week.
The kits are to support the country's efforts to fight against the entry and spread of COVID-19.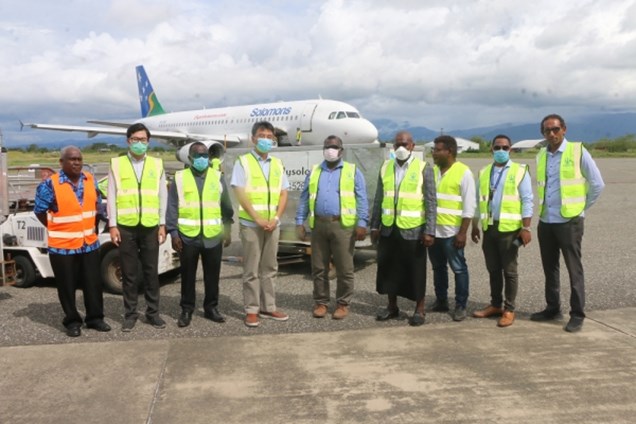 Officials from the Chinese Embassy handing over the COVID-19 equipments to representatives from the Government led by Minister of Mines and Energy, Bradley Tovosia.
A statement from the Chinese Embassy in Honiara said apart from lab equipment and testing kits, some PPE donations from China also arrived on the same flight.
"Because of the global lockdown/travel ban/flight cancellations, transporting the consignment faced a lot of difficulties," he said. It further stated that the embassy, OPMC, BGI, and relevant agencies have collectively collaborated to ensure the COVID-19 medical supplies get to their final destination.It's understood that the flight route began in mainland China, Hong Kong, Manila, Sydney, Brisbane, and finally to Honiara.
"The embassy already facilitated a video conference between BGI and OPMC, MHMS, NRH last month (March) before the consignment was dispatched for Honiara. "BGI is continuing to provide assistance to SI to facilitate the establishment of a testing lab so that cases can be tested domestically. With the arrival of the consignment, the testing centre will be set up soon," it was stated.
The statement further added that some donated medical supplies have already arrived over the weekend onboard two cargo vessels and will be donated to the Ministry of Health, Guadalcanal Province, and Honiara City Council later this week.
"The PPE donations are from Guangdong Provincial Government (sister province of Guadalcanal), China Harbor Engineering Company, Jia Shu Rong He International Trade Company, and Solomon Chinese Association," the statement said.
Founded in 1999, BGI is one of the world's leading life science and genomics organizations and its mission is to use genomics to benefit mankind and to be a leader in the field of life sciences.
With businesses in more than 100 countries and regions around the world, BGI has established cooperation and partnerships with thousands of different organizations across multi-disciplinary research areas including medical health, resource conservation, and judicial services.
At the same time, BGI provides equipment, technical support, and solutions for the needs of national economies and people's livelihoods such as precision medicine and health.
For full text, please click:
http://www.solomonstarnews.com/index.php/news/national/item/23347-covid-19-medical-kits-arrive
Solomon Islands Received the Final Two COVID-19 Test Results-NEGATIVE
On 19 April, Solomon Islands Ministry of Health received results of the remaining two COVID-19 suspected case samples that were sent to Australia, and again the samples came back negative with no detection of coronavirus.
Solomon Islands has a total of 13 suspected COVID 19 samples with all Negative results bringing the country zero cases to date. The Permanent Secretary of the Ministry of Health Mrs. Pauline McNeil says, "Solomon Islands is one of a few countries that are yet free from COVID 19 and with the results received, the ministry is not going to give up the fight to prevent and protect its nationals."
…
For full text, please click:
https://www.solomontimes.com/news/solomon-islands-receives-the-final-two-covid19-test-results-negative/9737
Fiji
Suva lock down lifted, School to remain closed until June
The lockdown on Fiji's capital Suva has been lifted by 5am 17 April.
 
Prime Minister Voreqe Bainimarama said on 16 April, this is based on 180,000 Fijians in the Suva confined having been screened by medical teams and fever clinics.
 
"The Nabua settlement –– the site of two of our coronavirus cases –– is still a high-risk region. Given how long this virus has proven it can stay dormant, the Nabua settlement will remain locked down for an additional 14 days. 

 "I want to be crystal clear with everyone watching: Even though the Suva lockdown is lifting, every other life-saving directive in place will remain in place.  The nationwide curfew remains in effect. Nightclubs stay closed. Gyms stay closed. Cinemas stay closed. Pools stay closed. Public gatherings are not permitted. Physical distancing of two metres from all others should be maintained at all times. The end of the lockdown is not cause for celebration. It is not a reason to have large grog sessions or drinking parties. It is not a justification to stay out past 8pm. It is not an excuse to leave your homes for no good reason," Bainimarama said in his address to the nation. 
  
Meanwhile, Bainimarama has announced schools will remain closed until June.
 
"Schools were scheduled to open next week Monday. Instead, schools will not open until the 15th of June, an extension that recognises that this virus will be part of our lives for the foreseeable future, and we must plan accordingly. 
 
The date schools reopen is subject to change based on the situation on the ground at the time. The Minister for Education joins me today to talk about how her ministry will continue to ensure that learning materials are distributed for at-home schooling, technology will be impactfully utilised, teachers and parents will be engaged and how students can utilise this as an opportunity for upskilling and professional development," said Bainimarama.
For full text, please click:
http://www.pina.com.fj/index.php?p=pacnews&m=read&o=12386207545e97f924662b74875442
Eight recover from COVID-19 in Fiji as curve continues to flatten
Prime Minister Voreqe Bainimarama has been briefed by the Minister for Health, Dr Ifereimi Waqainabete on the matter of COVID-19, which that eight out of the 18 patients who had contracted the deadly COVID-19 virus in Fiji has now recovered. The Prime Minister says this means Fiji recovery rate is now at 44 percent. There are only 10 active COVID-19 cases in the country currently as of 21 April.

52 tests were conducted last night and all came back negative, which includes 23 sailors, who will now go into home isolation.
For full text, please click:
http://www.pina.com.fj/index.php?p=pacnews&m=read&o=10247880405e9f97d83e4b9a232240
Cook Islands
COVID-19 FREE ZONE
Prime Minister Henry Puna has declared the Cook Islands "a COVID-19 free zone", however the county remains in Code Yellow for the time being. Almost 900 COVID-19 tests have been sent to the laboratory in New Zealand and all have come back with negative results.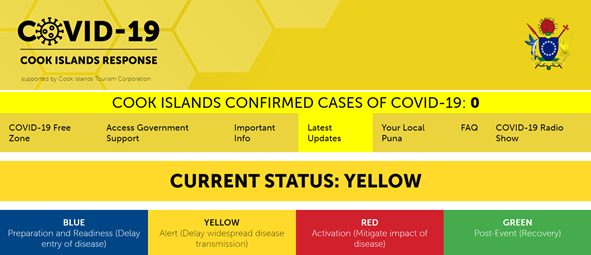 (Relevant News: Cook Islands become one of first nations in the world to declare itself Covid-19-free
https://www.tvnz.co.nz/one-news/new-zealand/cook-islands-become-one-first-nations-in-world-declare-itself-covid-19-free)
As a result of this, some restrictions will be lifted. Even though the virus has not presented itself, all are asked to continue to maintain good hygiene and practice physical and social distancing and other measures to prevent transmission.
Restrictions will be lifted for the following areas:
Students and Teachers will return to school on Monday April 20, 2020.

Travel between the Pa Enua's (Outer Islands) will recommence on Monday April 20, 2020.

Church services can commence from Saturday April 18, 2020

Non-contact sports may resume

Restaurants & Cafes may re-open

Health officials are encouraging anyone requiring medical advice or attention to call 0800 1800 or 0800 1801 or 0800 1802. All calls to the Healthline are free of charge.
Agriculture Support Package
In order to help provide food security for the people of the Cook Islands in these 'unprecidented times', the Ministry of Agriculture is introducing a support package for growers and home gardeners to provide a supply of fresh produce for the country over the next three to six months.
The Ministry will provide certain seedlings - free of charge

Free Tractor use to cultivate suitable plots of land - up to 1/2 an acre

A quantity of seeds have been set aside for home gardeners

Ministry is offering fertilisers and organic, low-toxic pesticides

Ministry to provide additional growing advice
Newest Information:
https://covid19.gov.ck/?v=1587660130386
Papua New Guinea
New COVID-19 case confirmed in PNG
According to release of PACNEWS on 22 April, Papua New Guinea has confirmed the most recent positive case of COVID-19 in PNG, which brings the total number of cases to eight. The patient went to the Asaro Health Centre on the 12th of April and was immediately admitted at the health centre, then the patient was managed for one week and improved.
PNG State of Emergency Controller (SOE)David Manning reported this news and also released below updates:
Primary and secondary schools resumes on 04 May 2020. All COVID-19 health protocols are to be strictly observed;

All public transportation are still prohibited. Taxis may operate as long as there are not more than 3 passengers and in areas where there is a curfew such as the NCD they are not to operate at night. Strict COVID-19 health protocols will have to be followed;

All domestic air travel to resume but only to provinces where there are no confirmed cases of COVID-19;

All ships are allowed to berth and unload cargoes only. No passenger is allowed to disembark and no-one is allowed to board. At all times PPEs must be worn by both ship crew and port workers;
"I am aware of the issue of thousands of Papua Guineans who have been laid off and advise that I am in meetings with the Department of Labour and Industrial Relations, the Union and the Employees and the Government to find a solution." David said.
For full text, please click:
http://www.pina.com.fj/index.php?p=pacnews&m=read&o=11645942605ea0c86d34e5651bd223
SOURCE:Solomon Times, Solomon Star News, PACNEWS, TVNZ, Cook Islands Government.