COVID-19 News Updates 20.05.2020
| | | |
| --- | --- | --- |
| Country | CasesConfirmed | Deaths |
| French Polynesia | 60 | 0 |
| Fiji | 18 (15 recovered) | 0 |
| New Caledonia | 18 | 0 |
| Papua New Guinea | 8 | 0 |
| Samoa | 0 | 0 |
| Vanuatu | 0 | 0 |
| Cook Islands | 0 | 0 |
| Tonga | 0 | 0 |
| Solomon Islands | 0 | 0 |
| Niue | 0 | 0 |
| Kiribati | 0 | 0 |
| FSM | 0 | 0 |
| Palau | 0 | 0 |
| Tuvalu | 0 | 0 |
| Marshall Islands | 0 | 0 |
| Nauru | 0 | 0 |
China donates medical supplies to Tonga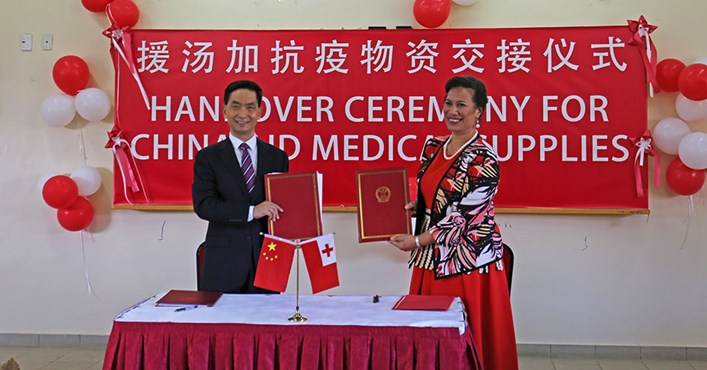 Chinese Ambassador HE Cao Xiaolin and Minister of Health Hon Dr 'Amelia Tu'ipulotu, Vaiola Hospital. 19 May 2020. Photo: Chinese Embassy, Tonga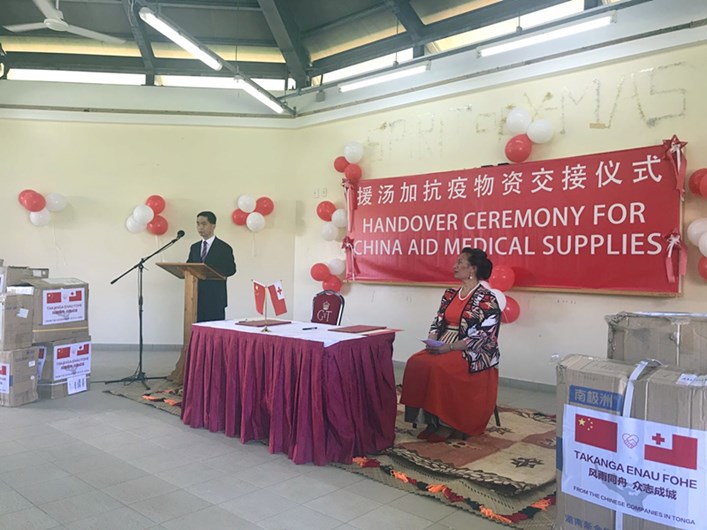 The Ambassador said the supplies will help meet Tonga's urgent quarantine needs, and assist the Tongan medical staff and the Tongan people fighting the pandemic.He said China and Tonga had also cooperated in the battle against COVID-19. China donated US$250,000 in cash to the China-Pacific Island Countries Joint COVID-19 Response Fund.
"I had frequent in-depth discussions with Hon. Prime Minister, Minister of Health, the CEO of Ministry of Health, the Secretary for Foreign Affairs as well as other Ministers and senior officials, on how to effectively prevent and control COVID-19 given the current medical conditions in Tonga. Our support is sincere and from the bottom of our hearts."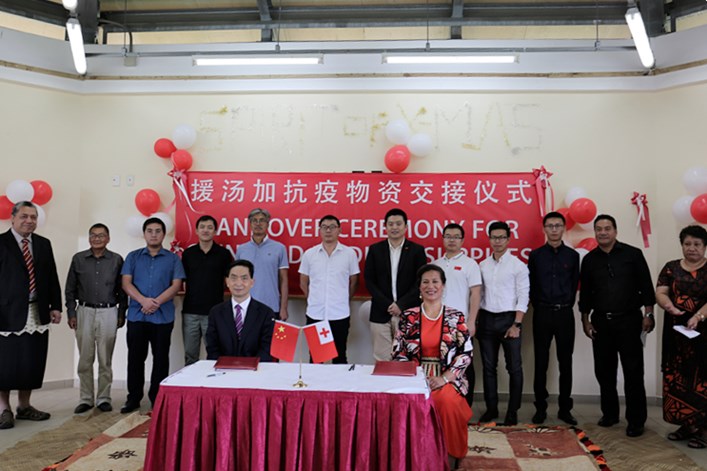 The Health Minister said this support was important in this time of global shortages and it arrived at a critical time to assist Tonga's preparedness for COVID-19.She also acknowledged the Chinese Government's support through the Pacific Joint Fund for COVID-19.
Matangi:
https://matangitonga.to/2020/05/20/china-donates-medical-supplies
Samoa Govt outlines coronavirus travel restrictions
Samoa Government outlined the following advice for all passengers entering Samoa via its official Facebook account on 19 May, with penalties applying if conditions are not followed:
Receive a coronavirus test and complete a medical report three days prior to arrival;

Passengers are not permitted to board a service if they have not received a coronavirus test and/or have a cough, fever, sore throat, flu like symptoms;

Required to undergo quarantine for 14 days upon arrival at a designated location;

Are only allowed to bring one piece of hand luggage and be prepared to bring their own personal hygiene equipment;

Samoa's Ministry of Foreign Affairs and Ministry of Health must be notified of any pre-existing conditions and what medication is required to ensure the passenger has enough medication to last the individual two months;

Samoa's Ministry of Foreign Affairs and Ministry of Health must be notified of any dietary requirements;

All children should be accompanied by a parent or legal guardian, to be up to date with vaccinations and have enough hygiene equipment.
The Blue Swan Daily:
https://blueswandaily.com/samoa-govt-outlines-coronavirus-travel-restrictions/
Wang Yi congratulates Kiribati on reopening of embassy in China
According to report by CGTN on 19 May, Chinese State Councilor and Foreign Minister Wang Yi sent a message of congratulations on the reopening of Kiribati's Embassy in China on 15 May . 
China and Kiribati resumed diplomatic relations in September last year. Kiribati's President Taneti Maamau paid a state visit to China in January, during which the two sides signed a Memorandum of Understanding for cooperation on the Belt and Road Initiative. 
"The bilateral relationship has enjoyed sustained and rapid growth, and produced fruitful outcomes in a wide range of areas," Wang said in the message. "New historical progress is recorded every day."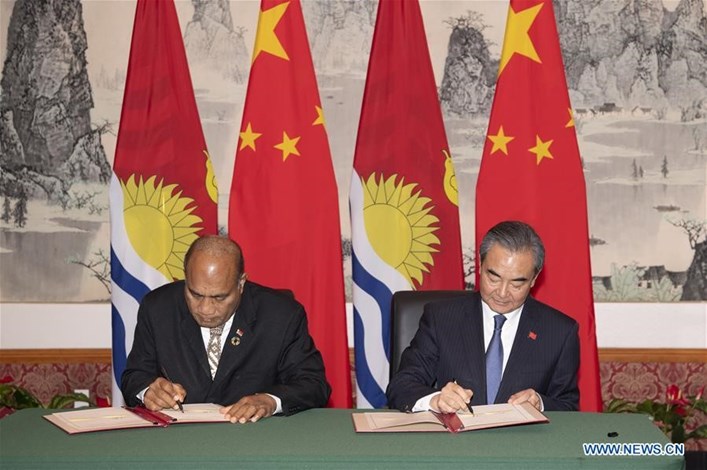 Chinese State Councilor and Foreign Minister Wang Yi (R) and Kiribati's President Taneti Mamau sign documents to restore diplomatic relations between the two countries at the Chinese Permanent Mission to the United Nations in New York, September 27, 2019. /Xinhua
Wang noted that the two countries have supported each other in fighting the COVID-19 pandemic, demonstrating their "deep friendship." 
"Guided by the vision of building a community with a shared future for mankind, China will continue to actively support Kiribati in combating COVID-19 and work with Kiribati to jointly safeguard global and regional public health security, and uphold multilateralism, fairness and justice," he said. 
"Past progress shows that the resumption of diplomatic relations between China and Kiribati meets the trend of history and our time, and serves the fundamental interests of our two countries and peoples." Wang stressed.
CGTN:
https://news.cgtn.com/news/2020-05-16/Wang-Yi-congratulates-Kiribati-on-reopening-of-embassy-in-China-Qx71WjNuQ8/index.html
Ministry of Foreign Affairs of China:
https://www.fmprc.gov.cn/web/gjhdq_676201/gj_676203/dyz_681240/1206_681418/1209_681428/t1779519.shtml
Tonga extends State of Emergency to 11 June, 20 percent salaries cut for Cabinet and MPs
According to report of PACNEWS on 19 May, the Prime Minister, Dr Pohiva Tu'i'onetoa declared on 15 May that Tonga's State of Emergency that was due to end at 8pm on Sunday 17 May has been extended until 8pm 11 June 2020.
The night curfew now starts at 10pm. Gyms and sporting events are permitted and some other restrictions have been eased, while the border remains closed.
Meanwhile, faced with a deficit National Budget for 2020-21, the salaries of Cabinet Ministers and Members of Parliament will be reduced by 20 percent, to help Tonga to counter the impact of the COVID-19, the Prime Minister told parliament Monday.
PACNEWS:
http://www.pina.com.fj/index.php?p=pacnews&m=read&o=5877624545ec36b9c30dd434a3bd2f
Lockdown exercise for Solomon Islands 
According to news released by PACNEWS on 19 May, a real time lockdown situation is set for 20 May 6pm to 22 May 6am to test the capability of Solomon Islands for possible COVID-19 positive case before opening the national borders. 
During the course of the lockdown people should be at their homes before 6pm on 20 May and remain at home for the 36 hour lockdown. All citizen should plan ahead to ensure food are at stock, have enough money, top up, cash power top up and have enough basic needs. All businesses including shops should also close down. Only four agencies remained operational which includes Police Operation Center, Health Operation Center, National Emergency Center and Red Cross.
Secretary to Prime Minister Dr Jimmy Rodgers reiterates that the logic behind the lockdown is the country will soon open its border on 26 May, the first repatriation flight for stranded nationals in Australia and New Zealand is tentatively scheduled for the same day. Besides, the government is also looking at repatriating nationals in COVID-19 free Vanuatu and Fiji thereafter, which means there is potential risk of coronavirus coming in. The other important thing is Solomon Islands has a testing capability the Ministry of Health and Medical Service is putting in place with the support of the two COVID-19 testing machines from China and Australia. These two must be well-checked to ensure they must go hand in hand.
Adding on to these the government wants to do the lockdown when businesses and schools are back to normal operation so that we can see the impact of the lockdown and how people are well coordinated.
"So it is testing the capability of us as a government, Ministry of health as lead ministry to ensure they can identify case, contact stressing, mobilising, isolating and so on." He said it is important for us to get our health authorities really prepared and test their capability should the country reach a stage where coronavirus case is positive. The new normal now is we have to live with the virus.
PACNEWS:
Total lockdown for Solomon Island:
http://www.pina.com.fj/index.php?p=pacnews&m=read&o=13543801825ec36c5d00d7e0c2d531
Our fight is not over: PM Sogavare: 
http://www.pina.com.fj/index.php?p=pacnews&m=read&o=21029231785ec36e652e37123a8578
It's not a mock lockdown: Solomon Islands AG:
http://www.pina.com.fj/index.php?p=pacnews&m=read&o=4256152855ec3722cdb5b282be14a1