COVID-19 News Updates 26.06.2020
| | | |
| --- | --- | --- |
| Country | CasesConfirmed | Deaths |
| French Polynesia | 60 (60 recovered) | 0 |
| Fiji | 18 (18 recovered) | 0 |
| New Caledonia | 21 (21 recovered) | 0 |
| Papua New Guinea | 10 (8 recovered) | 0 |
| Samoa | 0 | 0 |
| Vanuatu | 0 | 0 |
| Cook Islands | 0 | 0 |
| Tonga | 0 | 0 |
| Solomon Islands | 0 | 0 |
| Niue | 0 | 0 |
| Kiribati | 0 | 0 |
| FSM | 0 | 0 |
| Palau | 0 | 0 |
| Tuvalu | 0 | 0 |
| Marshall Islands | 0 | 0 |
| Nauru | 0 | 0 |
COVID-19 Pacific Humanitarian Pathway Protocols Approved
According to news released by PIFS on 25 June, the Ministerial Action Group for the Pacific Islands Forum Foreign Ministers has endorsed a set of five common COVID-19 protocols easing access to and movement of medical supplies and health workers through Forum Member countries.
Progressing the Pacific Humanitarian Pathway on COVID-19- scenes like this across the Pacific have been made possible with support from development and private-sector partners including billionaire philanthropist Jack Ma.
According to news released by PIFS on 25 June, the Ministerial Action Group for the Pacific Islands Forum Foreign Ministers has endorsed a set of five common COVID-19 protocols easing access to and movement of medical supplies and health workers through Forum Member countries.
These protocols will facilitate the work of the Pacific Humanitarian Pathway on COVID-19 (PHP-C), which was first established on April 7 as a commitment by Pacific Forum leaders to work together in the face of regional security threats.
The protocols, which were developed by a regional taskforce consisting of Members and technical agencies, allow for special cooperation and support in five key areas affected by current border restrictions. They were confirmed on June 17 during the inaugural meeting of the Ministerial Action Group, which was chaired by Tuvalu's Minister of Justice, Communication and Foreign Affairs, Hon Simon Kofe. 
The five key areas covered by the protocols are as follows:
•Deployment of technical personnel to and between Forum nations
•Customs and biosecurity
•Immigration
•Repatriation of Forum nationals to their homes
•Clearances for planes and ships transporting medical and humanitarian aid, technical personnel, and repatriating nationals.
Implementation of the protocols will differ across Forum Member countries and in line with the requirements of each nation and how they can best apply the protocols given legislation, border procedures, and resources.
Welcoming the endorsement of the common protocols, Minister Kofe thanked fellow members for their commitment and high-level support for the PHP-C.
"The endorsement by the Ministerial Action Group of these common protocols has set a new global standard that will enhance the COVID-19 preparedness, response, and recovery efforts of Forum Members. There are many stakeholders to thank for what has been achieved so far under the PHP-C, and we look forward to this continued support into the future."
…
SOURCE: PIFS 
(For more information, please copy below link to browser)
https://www.forumsec.org/2020/06/25/covid-19-pacific-humanitarian-pathway-protocols-approved/
PNGDF Barracks locked

 

down for 14 days after a soldier tested positive of COVID-19
According to article released by The World News on 25 June, Papua New Guinea Defence Force Personnel including their families living or working at Murray Barracks will go into a 14-Day lock-down following the 10th positive COVID-19 case reported being a female soldier.

The 9th case reported over the weekend was a 44-year-old Australian Defense Force personnel who has already been flown back to Australia on 24 June. Two days later on 26 June, the female PNGDF soldier was tested posted positive for COVID-19.
While SOE Controller David Manning said the soldier does not reside at the Barracks, the PNGDF Commander Gilbert Toropo said Murray Barracks will be on lock-down for two weeks which started on 29 June.
Ted Diro Primary School which is located inside the premises of Murray Barracks has also been directed to close for two weeks.
SOURCE: THE WORLD NEWS
https://theworldnews.net/pg-news/pngdf-murray-barracks-on-14-day-lock-down
 


Taneti Maamau sworn-in as Kiribati president
Taneti Maamau has been sworn-in as President of Kiribati at the Parliament House in Ambo on 24 June. With Tuesday's election victory, Maamau will serve a second four-year term, also continuing his role as the country's foreign minister.

In his remarks, President Maamau said he humbly accepts the decision that has been made by the people of Kiribati. "I continue to accept this responsibility with humbleness, respect and whole-heartedly to fulfil all tasks bestowed upon me and my party, Tobwaan Kiribati Party (TKP)." said Mr Maamau. 
"We all believe that during the campaign at the beginning of this year until early this week, it was very tough and this shows the strength and how a democratic government works by accepting the will of the people for the election of its leaders.
"It's obvious the people of Kiribati views and development plans that have been laid out in the new manifesto. And this will be the way forward for our government for the next four years so that wealth, health and peace in Kiribati can be improved without leaving anyone behind. These views and plans will motivate the people of Kiribati to use our country's resources for their development and benefit and shouldn't take it for granted. If we all do this then the growth of our nation will continue for the better and aligns well with our long-term development plan for Kiribati for 20 years or KV20." said President Maamau.
Chinese Foreign Ministry spokesperson Zhao Lijian said on Tuesday that China congratulates Maamau on his re-election.
SOURCE: 
PACNEWS
http://www.pina.com.fj/index.php?p=pacnews&m=read&o=1056361555ef3c37765ebea56394c0
CGTN
https://news.cgtn.com/news/2020-06-23/Kiribati-s-Taneti-Mamau-re-elected-state-media--Ryn8uWdt2o/index.html
First repatriation phase a success
According to news released by VANUATU DAILY POST on 24 June, Prime Minister (PM) Bob Loughman said the first phase of the government's repatriation was a success despite challenges and this should be considered as a stepping stone to improve procedures and protocols in the next phase.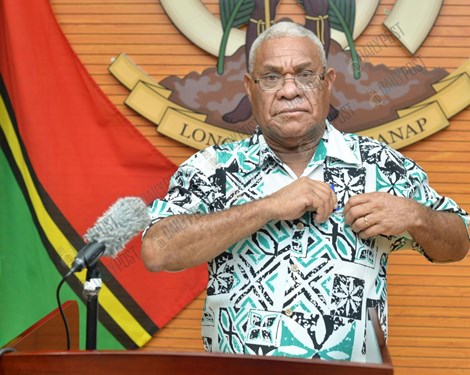 PM Loughman announced in a press conference following the end of repatriation first phase on 23 June that Vanuatu is still COVID-19 free. Over 1,500 citizens and residents have returned home in the first repatriation phase which commenced on 23 May. So far, not a repatriate who has been or still in quarantine has shown symptoms of COVID-19, he said.
"Repatriating stranded citizens and residents is part of my duty as the head of the government towards citizens' well-being and welfare. I thank the repatriates and their families for their understanding and cooperation in accepting the rules and conditions of the quarantine process. Their compliance helps to keep Vanuatu free from COVID-19." Meanwhile, PM Loughman called on members of the public to welcome and offer support to the repatriates once they are released into their communities.
He announced that repatriation flights under the first phase will now stop as of 22 June and the long-term phase will commence on August. There will be no repatriation flights next month, he said.
"This will allow authorities to manage the large number of repatriates in quarantine and time to review prevention and containment protocols, We also want to give time to the front-line workers to reflect on lessons and experiences gained in the first phase and time to do proper planning for the next phase." he said.
SOURCE:VANUATU DAILY POST
https://dailypost.vu/news/first-repatriation-phase-a-success-pm/article_64818226-b59d-11ea-bedf-470e3a782299.html
Mass repatriation next week for Solomon Islands
According to news released by Solomon Star on 22 June, the Secretary to Prime Minister of Solomon Islands, Dr Jimmy Rogers gave a speech on 21 June during the weekly talkback show on the national broadcaster, and revealed that more than 300 locals and expatriates are expected to travel back into the country via the two Solomon Islands governments' sanctioned flights next week. The incoming citizens are mostly from Australia, New Zealand, Fiji, and Vanuatu.
Meanwhile, more than 150 people who've been repatriated on 8 June and spent the last 14 days in quarantine have already been released with the exception of seven.
The first flight from Brisbane is scheduled for Tuesday 30 June. The second would be on 01 July from Port Vila and then to Nadi and back. Apart from the two repatriation flights which will be operated by the Solomon Airline, there is also another flight coming on 30 June. This UN Tuna Association chartered flight will bring in some of our citizens who are working as Fisheries Observers under the International Tuna Industry.
The flights are open to eligible travellers only including:
- Solomon Islands citizens residing overseas who wish to return to the Solomon Islands;
- Foreign nationals residing in the Solomon Islands who wish to return to their home countries;
- Foreign passport holders who have the approval to enter the Solomon Islands in transit to Australia;
- Solomon Islands citizens are able to travel assuming they meet all foreign requirements;
- Non-Solomon Islands citizens will be able to travel providing they have formal approval granted by the Solomon Islands Prime Minister's Office.
…
SOURCE: SOLOMON STAR
https://www.solomonstarnews.com/index.php/news/national/item/23670-mass-repatriation