China-Pacific (PIF) Cooperation fund 2020 to support Trade, Pacific COVID19 response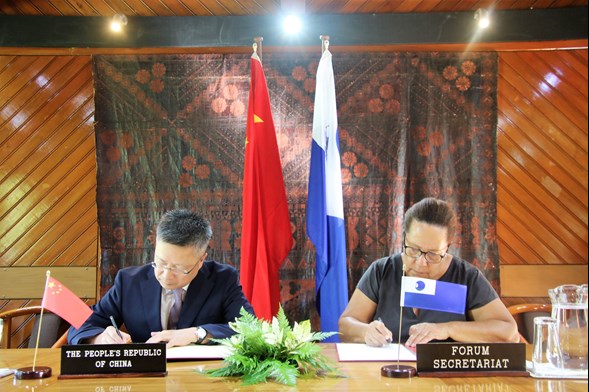 Supporting partnership and collaboration: HE Ambassador Qian Bo and Dame Meg Taylor — the 2020 China-Pacific Cooperation Fund will support trade pathways for Pacific economies and support regional responses to COVID19. 
PIF-HQ, Suva/September 29, 2020—The People's Republic of China (PRC) have signed off this week on their annual million-dollar contribution to the Pacific Islands Forum, through the China-Pacific Islands Forum (PIF) Cooperation Fund.
Representing China, HE Ambassador Qian Bo, of the Suva Mission of the PRC to Fiji met with the Pacific Islands Forum Secretary General, Dame Meg Taylor. They exchanged formal documents sealing in 2020 support for the Cooperation Fund, which supports trade and investment work between China and Forum members, and other regional priorities.
In addition to supporting the Pacific Trade and Invest (PTI) Network Office in Beijing and relevant network activities, the Forum Secretariat will allocate funding to support the operation of the Pacific Humanitarian Pathway on COVID-19.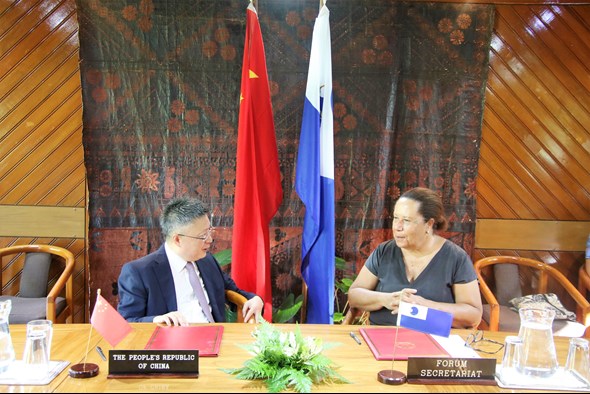 Acknowledging the PRC for its valued financial contribution towards Pacific development priorities led by Forum members, SG Taylor noted the "spirit of partnership and collaboration" embodied within cooperation partnerships with the Forum.
"Cooperation funding allows the Secretariat to add valuable responsive capacity to its primary budget, and to plan and progress priorities when it comes to implementing the decisions of our Leaders," said SG Taylor. "Support for trade and investment facilitation is particularly important as we work with Forum Member countries over the coming months and years to support regional economic recovery from COVID-19."

Source: Pacific Islands Forum Secretariat
https://www.forumsec.org/2020/09/30/china-pacific-pif-cooperation-fund-2020-to-support-trade-pacific-covid19-response/