Supporting Pacific SMEs in Business Diversification and Exploring New Markets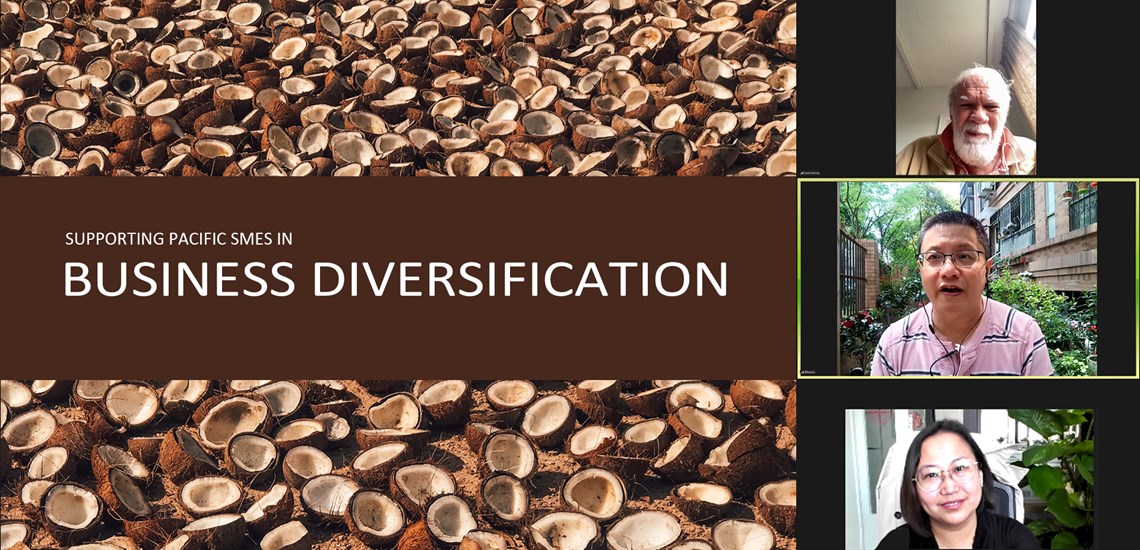 In response to the recent resurgence of COVID-19, recently PTI China has deepened its exploration of new avenues of online trade marketing for Pacific Island SMEs. As such, the Export team recently held several meetings with China's largest online trading platform, Alibaba, and the General Administration of Market Quality Supervision, to discuss strategic approaches to support marketing, create awareness, and ultimately to list Pacific products of market interest online.
Working with an agricultural client from Samoa, PTI China explored how to diversify Pacific product offerings to meet Chinese market demands via digital platforms. As a result, the Export team facilitated a virtual meeting to introduce the Samoan company to a Chinese processing company, to discuss potential business opportunities and promote cooperation, potentially leading to a buyer-and-supplier relationship opportunity.
 The Chinese company, with its rich experience in resource recycling and an interest in coconut biproducts, has now set its sights on opportunities in the Pacific Islands, where an abundance of coconut resources can provide the company with high-quality coconut shells as raw material to manufacture activated carbon. With high-tensile, high-absorption and multiple regeneration, activated carbon has a promising future in the context of climate action, environmental protection, building sustainability and resilience, which are at the forefront of global priorities today.
PTI China's role to facilitate this buyer-and-supplier connection is an excellent example of a collaborative approach in the efforts of both businesses to recover from the detrimental effects of COVID-19 and is also a positive action in response to climate change. Both businesses are confident that this cooperation in the future will meet market demands and build resource capacity and productivity, with a view to a possible joint venture partnership.
PTI China asserts that Pacific businesses looking to maximise their brand value and competitiveness in the Chinese market, would do well to look into product diversification. Many Pacific Island SMEs are diversifying their product and service offerings, as many continue to recover from the negative impacts of the pandemic. The PTI Pacific Business Monitor 2021 report found that almost half of small and medium-sized businesses have chosen to diversify their products and services, while others continue to ask for assistance to work out their diversification plans, which can be a daunting challenge for Pacific businesses.
Ongoing product and market research highlights other possible business opportunities for coconuts. While coconut oil is globally recognised as a healthy and pure product; the coconut husk is also of high value. It contains a good amount of lignin and cellulose, plus it has a loose and high-air permeability structure. Coconut husk is used as a raw material for coconut-husk brick, which is used as a planting medium that helps the plant retain moisture and is resistant to fungal infections. All of this contributes to sustainable development.
Trade Commissioner Mato says: "Connecting Pacific businesses to Chinese importers, buyers and businesses is a key service offering in our business. This connection here provides a huge opportunity for two businesses working together, to achieve their business goals as a result of their diversification strategy, and in view of the impact of climate change on the future of business. The plan for processing of discarded coconut shells and husks acts as a catalyst to also promoting recycling and creating sustainable practices, as well as increasing employment opportunities in the Pacific Islands."
The Chinese government has formulated a series of policies and measures to address climate change, improve its capacity to take climate action, and accelerate green and low-carbon transition, supporting Chinese enterprises to reduce their use of coal and charcoal. We share the same vision for the Blue Pacific Continent and the Pacific enterprises – in our recently completed 2050 Strategy, we have a shared stewardship in addressing climate change and that of protecting our Ocean; at the heart of this stewardship is collaboration with the private sector.
PTI China will contribute to fulfilling our shared responsibility under the 2050 Strategy of the Blue Pacific, achieving a better business-enabling environment, and supporting businesses to build sustainability and resilience in both Pacific Islands Countries and in China.